Friday is here!
The end of the workweek. The weekend is about to begin.
It's one of the best days of the week and in this post I'd like to share 107 of the most uplifting, happy and inspiring Friday quotes.
Celebrate the end of your work week and set yourself up for a fun, exciting, and rechargeable weekend.
This post has Saturday quotes and Sunday quotes to inspire you for the weekend.
Inspirational Friday Quotes
"It's time to embrace the crazy beautiful mess that you are because it's almost the weekend."
– Unknown
"It's finally Friday, I'm free again. I got my motor running for a wild weekend."
– George Jones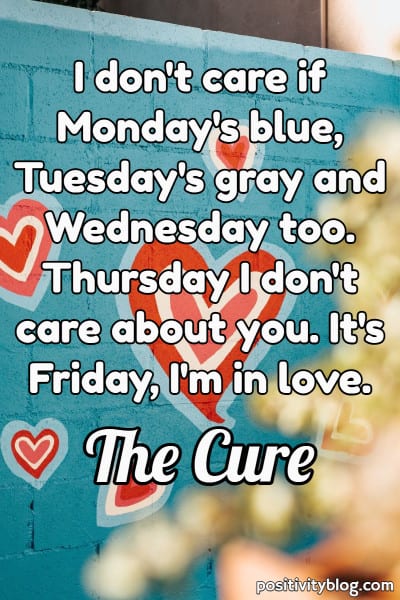 "I don't care if Monday's blue, Tuesday's gray and Wednesday too. Thursday, I don't care what you think. It's Friday, I'm in love."
– The Cure
"I believe that it is a mandatory Law of the Universe that on Fridays, you have to do something a little fun."
– Hanna Rhoades
"Music always sounds better on Friday."
– Lou Brutus
"Friday fills my day with hope and happiness."
– Anthony T. Hincks
"Think about how you can spread positive vibes to the…